Where it comes from
The ancient Rafkos was there that today dominates the village of Agios Myron . The ruins of ancient Rafkos located on the northeast slope of the hill on which is situated the village of Agios Myron . Being placed in the Hellenistic era and many discoveries that were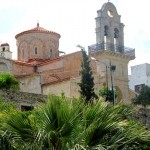 before the war in the same location determines the location of the ruins of the ancient city . The Rafkos mentioned by ancient writers , between the ancient cities of Gortyn , Knossos and Tylisou . " The residents chased by " chalkoeideis " bees with stings painfully , forced to leave the Ancient Rafkos to build another city with the same name . Rafkos This occurs several times in the history of Crete . In 193 BC allied with Gortyn and Lyktos and won the neighboring Lykasto from Knossos . After several battles in 166 or 164 BC the Rafkos joined the territory of Knossos since losing its autonomy . Ancient Rafkos is known for its coins and inscriptions which were collected many years ago . The economy was based on agriculture and beekeeping and was especially flourishing ,
and this is why the Ancient Rafkos from the 5th to the 2nd century BC cut eight types of coins . Also reported that the oldest currency to cut around 430 . The following coins were minted from 300 to around 165 , when the city was destroyed . The values of the coins are silver stater , silver and bronze didrachm drachma.

The Company Rafkia Land and its founders as being oil producers and lovers of tradition and ths "gold" oil of Malevizi, based in Agios Mironas, ancient Rafkos, trying to share with the wider world a product that will dominate at the logic and the fact of the Mediterranean diet.
Koroneiki olive tree that grows in the region of Crete, Malevizi because of particularly fertile soil provides us with an unparalleled feast of flavors with the cold extraction of olive oil. Extra virgin olive oil full of health, taste and history. This story has been written with acts from 430 BC and we just want is to develop and to share it widely.